When I tell people that I am a strengths coach, often they ask, "Oh! Like StrengthsFinder™?" "A little like StrengthsFinder™," I say.
I admit, I LOVE personality tests! I find them fascinating. I enjoy the insights and validation they provide. I value all the work people put into creating them.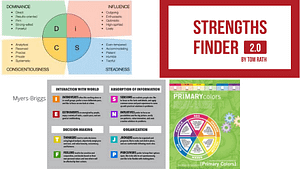 I see personality tests and strengths tests as a starting point to get people's feet wet. In my individual coaching and business consulting methods, I like to take a deeper dive.
I actually love Tom Rath's work – all his research, his testing, his definition of a strength, and his books.
Tom Rath defined a strength as a talent into which a person has put focused effort.
Strengths show in various ways. For example, one strength shown on my StrengthsFinder test is Winning People Over (WOO). I became a professional speaker because I affect people from stage and I enjoy doing it.
I often focus my WOO strength on individuals, however. When I speak, I like to focus on things I've learned about people in the audience who I met before my presentation (always with their permission).
I help people see themselves for the wonderment they are. I then "win them over" to rooting for themselves and seeing how their strengths impact and influence the world around them. Then, I help them see the value of complementary teams, teach them how to recognize strengths in others, and teach them to create and build complementary strength teams.
In addition to speaking, I love working with individuals – learning what makes them unique and powerful. For me, an organization is a group of individuals with their own strengths, their own passions, and their own beauty to add to the tapestry that becomes the organization the public sees. I help leaders see the individuals. I help individuals see themselves and the other individuals around them.
Here are some stories:
I worked with one woman who worked in a city office until a couple of years ago. I met her through Toastmasters. She has earned the highest speaking certification available in Toastmasters AND currently works as one of the district leaders over roughly 65 distinct clubs that span over several hundred miles distance. If the city office supervisor had been aware of all her talents and the effort she put forth to make them strengths – organization, event planning, recruitment, customer service, public speaking, making people smile, encouraging others, executive leadership, research ability – they could have used her in MANY more ways to help their organization. She LOVES the skills she has made strengths. These strengths transfer to multiple areas of her life.
I once worked with a college professor who decided she wanted to apply for dean position. In her environment, she had developed amazing curricula, phenomenal class interactions, fantastic class participation, and student success. She pursued multiple opportunities to learn teaching methods that encourage students to become lifelong learners and the best people they can be in their communities. With all of her accomplishments, she had begun to see herself as "just me." She didn't realize how her passion for student success, pedagogical excellence, and team building affects everyone with whom she comes in contact and how that could add to the dean position.
I also have worked with stay-at-home moms entering the workforce for the first time in a long time. Some have felt they have little or nothing to offer to the workplace. For some, they know they have much to give and yet they don't know how to show their strengths as transferable.
I worked with one woman whose daughter had a life-threatening illness a few years ago. Once this mom got over the shock and denial of the diagnosis and accepted new her role as a primary caretaker and advocate, she began copious amounts of research. In addition to the daughter with the illness, this mom has two other children whose lives she influences. We walked through her "typical day" and found the skills into which she has put effort and discovered her strengths. We then talked about how she can use her resume, her cover letter, and her interview skills to show off her strengths.
If you're like me and you love personality tests for the sake of personality tests, consider your goal in taking them. Consider the last personality test or strengths test you took. Now, delve deeper. See what other strengths show in the categories the test shows. See how the traits the personality test demonstrates strengths that show up in your life. How can you apply your strengths to reach your next level of excellence?
Next, look at the people around you. How have they used their personality traits to develop their strengths? How can people around you use their strengths to complement yours to make all of you more successful?