I recently watched "A Beautiful Day in the Neighborhood" demonstrating Mister Fred Rogers' influence on the world one person at a time. He made every individual he met feel the like the most important person in the world. Mister Rogers felt that any person with whom he spent time was the most important person in the world at that moment. That was his gift into which he put effort to create a strength. Love each individual as an individual EXACTLY how that individual was AT THAT MOMENT. He was accepting, loving, welcoming, sincere, and genuine. He inspired generations during his lifetime. He continues to inspire generations because of his lifetime.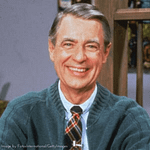 I have discovered that I love working with individuals. Individuals are powerful. Individuals create community. Individuals create organizations. Individuals create society. Individuals create difference.
Helen Keller said,
When we do the best that we can, we never know what miracle is wrought in our life, or in the life of another.
Miracles are wrought in lives in which people know, own, and build on their strengths. Those lives then create or enable miracles in other people's lives. Mister Rogers demonstrated this every day. Helen Keller and Anne Sullivan demonstrated miracles by doing their best with their strengths and encouraging other people's strengths.
How can you recognize your own strengths and the strengths of others? How can you then use those strengths to make a difference in your life and the lives of others—at home, in your community, at work?
Start by looking at what you enjoy doing and why. Also, what were you doing at times when you felt most happy? If it was as a child, teenager, young adult, or aging adult, consider the details. What truly energized you about those experiences? Therein lies your first insight into strengths you may or may not have considered before.
Next consider how you can use those strengths in new ways—at home, in your community, at work. How will using these strengths more often make a difference for you? How will it make a difference for others with whom you interact? The world changes one individual at a time. Consider Mister Rogers, Helen, Keller, Anne Sullivan, and people who have made a direct difference in your life. You have the power to make a difference in other lives. Likely, you already have made differences. Lean into it. You will find that knowing, owning, and building on your strengths will change the world – starting with changing YOUR world.
Share your thoughts, experience, and comments. I would love to know how your strengths have helped you and others.