I grew up hoping that as an adult I could do what I enjoyed "in my spare time." The problem was, I never witnessed any spare time. My mother was a high school English teacher whose students wrote 100-page research papers once a year. My stepfather was a college professor with a 90-minute commute each way. My father was a workaholic nurse. I witnessed a lot of work with weekends of chores.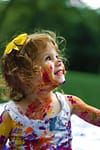 I always wanted to enjoy my work and I always have found ways to enjoy my work. As a result of a varied job and volunteering background, I have discovered that I have strengths and passions I never found in school growing up, even though I nurtured many of them unknowingly. The funny thing is that these strengths didn't generally point at any one career path. I still felt like I could do anything, but didn't know where I truly wanted to land.
All their lives, my children have heard, "do work that you enjoy. As long as it's legal, ethical, and pays the bills, you have our full support." My husband and I have also told them that if they need to do some additional work to pay the bills, that's fine; just be sure their primary work either is something they enjoy or that they are working toward a career they will enjoy.
As a result of our forced-on-them perspective, we have three teenagers with disparate desires all of whom feel they may pursue whatever they'd like. We have a son who has wanted to join the military since he was three. We have a son who currently is writing gothic horror and wants to become a scientist or an inventor. We have a daughter who is a professional balloon-twister and sees herself growing up to be an entomologist; she loves all creeping things and enjoys studying insects and arachnids. All three know that if they will work with their natural talents, invest time, effort, practice, and money into learning all they can, they will develop strengths from those talents that will take them far. It's OK that they are different from each other.
For years, I have told people, "I don't know yet what I want to be when I grow up." I have enjoyed editing, database administration, customer service, presentations, life coaching, researching, and learning everything I can. The only thing I knew was I wanted to be the best "me" possible and help other people along the way.
Finally, a couple of years ago, I knew what I wanted to be: a professional speaker and a strengths coach for individuals and organizations! It is the culmination of my strengths and passions. I also recognize that I don't have to be everything for everybody. Also, I don't need to DO everything by myself. I now love building teams to help me. I also love helping others build teams around their strengths to make each other mutually-successful. I have found what I love and when I put my whole heart into it, I have FUN. In fact, I often tell clients, "OK. Let's play," before we go to work on meeting their goals.
Tell me in the comments how you have found ways to do what you love and have fun doing it. If you're not doing what you love, how will you change to create more enjoyment?